Which Milk Has More Calcium!?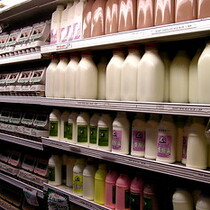 Posted June 19th, 2013 @ 6:39am
Skimmed milk has a little more calcium than semi-skimmed, which in turn has a little more calcium than whole milk.
The reason is simply that as the fat is removed, the watery proportion of the milk goes up, and this is the part that contains the calcium.
In actual fact the difference isn't that great - per 100ml the figures are 122mg for skimmed milk, 120mg for semi-skimmed and 118mg for whole.
CLICK HERE to read more!
Article courtesy of dailymail.co.uk
Photo courtesy of Flickr: username: Muffet