BOB'S BIRTHDAY VERSION FOR GIRL CHAT!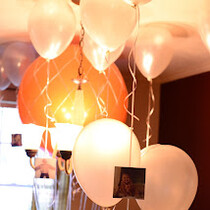 Posted February 4th, 2014 @ 2:47pm
Great ideas for your next birthday event!!! Since today is Bob's bday...I based everything around his special day! OLD MAN DAY ;) LOL
Make a photo gallery fun! Print out photos of your birthday boy (or girl) and you just tape them to the end of the balloons. It makes things more personal.
Hot air balloon gift basket! I think this is so cute! You can use multiple balloons or get a giant balloon at party city. Put whatever you want in the basket which you can pick up at the dollar store. It makes for a fun gift basket. AND you can also take a basket and make it a pic opportunity for the kids.
SUPER HERO CAPE SUCKERS
MASON JAR CUPCAKES
The How To:
POTATO NACHOS

How To:
POPCORN BUFFET